SAMPLES

The following sample sets are now available.
PLEASE SEE THE ONLINE STORE WHERE YOU CAN PURCHASE THE SAMPLES DESCRIBED BELOW AND ADDITIONAL OPTIONS. We cannot provide custom samples but for combinations not shown below please contact us for availability/pricing. International shipping for samples may be extra.

REAL CLAY
Set of 38 plain color samples (all on A-Crest mold), one of each of the current colors shown on the color chart. - Price $55 shipped.

Set of plain white mold samples, one of each from the molds we have so far produced with (currently 15) as shown below plus Elephant & Crown, Small Crown and Large Crown. - Price $26 shipped.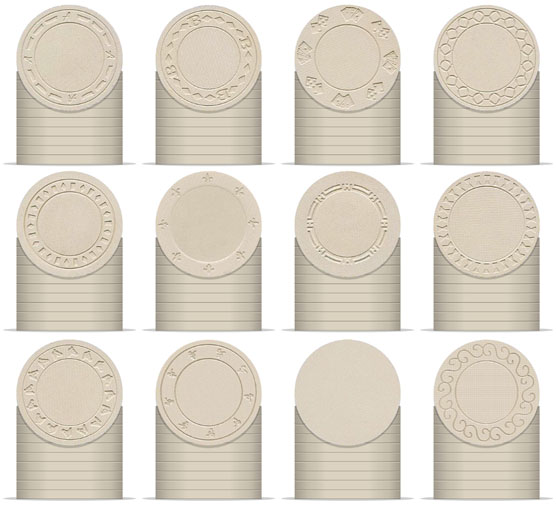 Selection of 10 different inlaid samples (our choice) to give a representation of molds/colors/edge spots in the style shown below. - Price $27 shipped.
(note this is only a representation and will not include all variants - please order separately for specific requirements subject to availability)

CERAMIC (DYE-SUB)
Set of one each of the 6 different styles of chip shown on the ceramic chips page. - Price $14 shipped.

Set of one each of the 9 different shapes and sizes of plaque shown on the ceramic plaques page. - Price $72 shipped.

Set of one each of the 3 different styles of plaque at the top of the ceramic plaques page. - Price $31 shipped.